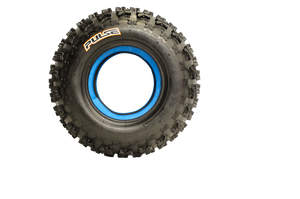 Tire Spine Run-Flat System
Tire Spines are a run flat device that installs inside your existing off-road tires of choice with basic hand tools. Tire Spine's are made of a dense, yet extremely light-weight and durable foam. These attributes make the Tire Spine insert really popular for off-road racing. ATV, UTV and Demo Derby Cars are some of our primary users. Have something else in need of run-flat protection? Lawn mowers, tractors, robots, no problem! Get in contact with us.

The negligible amount of weight added to the tires is justified by the added confidence in tire performance.

It's tested and trusted by the U.S Military and racing professionals alike across the country. Get your podium proven system.
Testimonials
Installed the infinity series by myself with no help on the first try with no tools. I have the high performance spines and they are amazing! They look pretty cool too as well even though you don't see them that often. Cheaper than competitors, less parts so less friction than competitors, and the customer service is second to none! You will not be disappointed.

Zach
Super fast shipping. Great company to deal with and will answer any questions you have. Great product also.

Jeremiah